Frequently Asked Questions
What are your kennels like?
We have Mason Kennels, each Kennel has a 4 ft. Stainless Steel Panel on each side for privacy and sanitation. They also have a Channel sealed to the floor under each panel to prevent urine or anything else from entering the next dog's run. The Kennel Building uses Radiant Heat, is Air Conditioned with a clean air exchange system and is on a 24 hour smoke alarm system monitored by Trans-Alarm. We use pet cots for sleeping and have blankets and bedding available or you may bring one with. The kennel sizes vary in size from 4'x6' , 3'x8' and most are 4'x8'. With plenty of room for two family dogs to be boarded together. We believe that dogs need their own space for safety and to be able to eat their own food and have their own water to help prevent the spread of disease. At the end of the day, they have a place to have their own belongings and bed.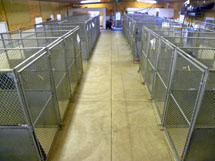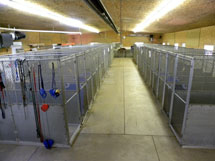 What are your rates for boarding?
(Nightly/Per Dog)
$28.00 Small - 2'x'2
$30.00 Large - 4'x'8, 3'x8', 4'x'6
$40.00 Suites - 10'x10'
A multiple occupancy discount of $3.00 (per night/per dog)will apply for 2 or more dogs boarding together from the same family. We DO NOT mix dogs from different families in the same kennel run. We reserve the right to separate the dogs for any safety concerns we may have and that the dogs will need to be able to be fed together.
We accept all major credit cards
What do we need to bring with us when we drop off our dog?
Please bring food for your dog. There is a $3.00/day charge (for Iams) if owners don't bring their dog's food.
We are also now asking owners to bring their own food if they are not on Iams or Iams Lite, as that is the only food we carry at Blue Ribbon Kennels. The dogs do best when their diet is kept the same. We still have treats for them.
You can also bring rawhides or special treats from home, A copy of your dogs' vaccinations are required.
Stainless Steel bowls are used when feeding your dog. You may bring bedding, a toy or chew bone, but please NO Quilts or Large Blankets.
Will my dog get any outdoor time?
Outdoor exercise areas are 15 x 20 ft. where your dog gets out alone three times daily, while we clean and feed inside.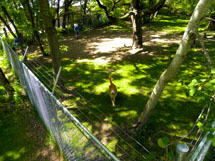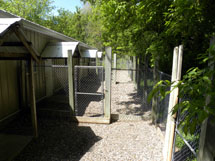 What about vaccinations?
We require these Vaccinations to be up to date: Rabies , DHLPPC combination, and also Bordetella (kennel cough). We will need the name of your Vet Clinic and phone number. Our staff are trained in CPR & Animal First Aid.
What sort of grooming services do you provide?
We offer grooming, bathing & nail trims for a fee upon request.

Bath Only:
$22.00 - Small (up to 20 lbs)
$26.00 - Medium (20 lbs - 25 lbs)
$30.00 - Medium (26 lbs - 39 lbs)
$40.00 - Large (40 lbs - 49 lbs)
$50.00 - Large (50 lbs and up)
$15.00 - Nail Trim Only
*extra charge for brush out - extra charge is $20.00 per hour

All breed professional grooming available, rates vary with breed, condition of coat and trim requested.
What if our dog requires medication?
There is $1.50 charge per dose for insulin dependent dogs. There is a charge of $.75 per pill for medication. We use cheese or soft dog food. This is to make it easy on the dog and also for the person giving the medicine. Dog Treats are Free.
Will my dog get personal one-on-one time?
With over 4 acres of walking paths & open space, our "Waggin' Tail Trails" provides extra one on one time for your pet. A great stress reliever. A 1/2 hour walk for a fee of $2.00 per walk, per dog. We also have a 6000 sq. ft. Doggie Play Park full of toys for off leash fun with selected play pals or alone with constant supervision and interaction with staff. 1 hour of fun for only $3.00. On-site in home playtime is also available, indoor playtime includes all the comforts of home with a playroom, a TV room for quiet time and a sunroom with a fenced in yard for potty breaks. Rate is $3.00 per hour.